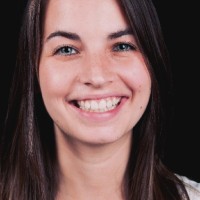 Biosketch and Research Interests
My major interests are the neurobiological and behavioural impact of adverse experiences on children and adolescents with different psychiatric disorders such as Autistic Spectrum Disorder or Conduct Disorder. In my BSc and MSc Theses I worked with healthy young women, who had experienced traumatic life events and young women experiencing war related trauma from former Burundian rebel groups. In this context I was able to investigate the short- and long-term impact of those traumatic experiences on behaviour and electrical activity in the brain (measured using EEG).
In my current PhD project the clinical and the neuroscientific fields are combined to investigate both the behaviour (by using eye tracking methods) and the neural activation (MRI) in adolescents with a diagnosis autism spectrum disorders relative to patients with conduct disorder. This comparison is of utmost interest since both disorders show a deficit in emotion processing, regulation and empathy however, less is known on their specific neurobiological underpinnings. By using this approach, we might be able to help improve the understanding of disorder-specific experiences in emotion processing.
Curriculum Vitae
Projects
---
Publications
Please find a list of my publications on Google Scholar soon